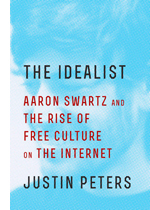 Justin Peters is the author of The Idealist: Aaron Swartz and the Rise of Free Culture on the Internet, which was first published in hardcover by Scribner on January 12, 2016. The United States paperback edition, featuring a new afterword by the author, was published by Scribner on January 3, 2017. The U.K. hardcover edition was published by Duckworth Overlook on March 23, 2017. The Idealist was named one of the best tech books of 2016 by Backchannel, and one of the best biographies of 2016 by Steve Donoghue at Open Letters Monthly. You can and should order a copy.
"Peters captures Swartz flawlessly." - New York Times Book Review
"Riveting . . . Peters' book is a fascinating look not only at one of the Internet's most beloved whiz kids but also at the way copyright works and doesn't work in America today." - Los Angeles Times
"This is the first essential book on Swartz, and it may also be the last word." - Steve Donoghue, Open Letters Monthly
Click here for more information on The Idealist and its critical reception.