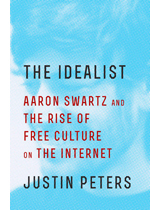 Justin Peters is the author of The Idealist: Aaron Swartz and the Rise of Free Culture on the Internet, which was published by Scribner on January 12, 2016. He spent many months immersed in painstaking microfiche research in order to bring you, the reader, an accurate and informative book. The book contains up-to-date information about modern topics such as the copyright law and you, the imaginative evolutionary theories of John Philip Sousa, the Xerox Sigma V computer, the hated Cornelius Mathews, and, of course, the library of the future. You can and should order a copy.
"Peters captures Swartz flawlessly." - New York Times Book Review
"Riveting . . . Peters' book is a fascinating look not only at one of the Internet's most beloved whiz kids but also at the way copyright works and doesn't work in America today." - Los Angeles Times
Click here for more information on The Idealist and its critical reception.